More Information
This webpage was created by the Port of San Diego to commemorate the Ryan Aeronautical facility contribution to San Diego's aviation history. Ryan Aeronautical operated on State Tidelands from the 1930's to 1990's.
For more information on the Port of San Diego's Teledyne Ryan (TDY) site demolition project, please visit www.portofsandiego.org/tdy-site-demolition.html
You can also download a printable brochure that summarizes the information on this site by clicking on the brochure thumbnail below.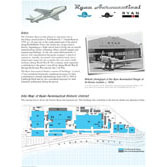 Other aviation related activity in area
Naval Air Station North Island is located at the north end of the Coronado peninsula on San Diego Bay. It houses several US Navy aircraft carriers, and is the largest aerospace industrial complex in the US Navy. It is one of the earliest naval air stations in the United States, and the first on the West Coast. Originally used by Glenn H. Curtiss for his Aviation School in 1910, the Navy sent its first pilot to the school to be trained by Curtiss in 1911. North Island was chosen by the Navy for the aviation unit's winter quarters.  "Camp Trouble," as it was called, was established in 1912 on the northeast corner of North Island. The Navy formally purchased North Island in 1919, and permanent Navy facilities were constructed.
North American Aviation (NAA) was a major US aerospace manufacturer, responsible for a number of historic aircraft, including the T-6 Texan trainer, the P-51 Mustang fighter, the B-25 Mitchell bomber, and the F-86 Sabre jet fighter. After the Air Mail Act of 1934 forced the breakup of holding companies, North American became a manufacturing company, run by James H. "Dutch" Kindelberger.  General Motors Corporation took a controlling interest in NAA and merged it with its General Aviation division in 1933, but retained the name North American Aviation. In March 1967, NAA merged with Rockwell-Standard, then known as North American Rockwell. The company changed its name to Rockwell International and named its aircraft division North American Aircraft Operations in 1973. Rockwell International's defense and space divisions (including the NAA divisions Autonetics and Rocketdyne) were sold to Boeing in December 1996. General Dynamics Corporation also had an airliner fuselage business located at Lindbergh Field where 3,500 employees built fuselages for the McDonnell Douglas jetliner.
Links
National Park Service HABS guidance
Northrup Grumman
National Aviation Hall of Fame
Smithsonian National Air and Space Museum
San Diego Air and Space Museum